Samsung SGH-i600 WM6 Upgrade (Yes… even if you are on Orange!)
Time to upgrade your online craps game at Casino Bellini, where you can learn how to win at craps
with the best of them. Start beating craps
and getting a big craps payout
at GamblingCity.net!
---
IMPORTANT NOTICE: It seems that a few users have managed to completely 'brick' their i600's by putting i607 software on them (or visa-versa) – The two flash files are not interchangeable – if you use the wrong flash file on your phone, you may well permanantly 'brick' it. Please also note: The information provided here is based on my own experience of upgrading my i600, and any Firmware files I link to are for the i600 European version only. You use this information at your own risk.
Again: The instructions here are for a European i600 **NOT** a USA i607. If you try this on an AT&T i607, you *will* brick your phone.
---
Dearest Fanboys (and girls),
As you know; I am a great fan of my Samsung SGH-i600, but I have a little bad news for you… The *Free* WM6 Upgrade that is supplied on the Samsung Website [link] will not work on the 'Orange' branded units, or even those that have been 'debranded' :o( – I have tested this using the various methods (and wiping my phone on each occasion!) in order to prove that it can't be done.
Curse you Orange, and curse your nasty branded interfaces….
However…. A look at the MoDaCo Wiki [Link] shows a WM6 Flash (not official) !!! – So… I downloaded the 60Mb File, and lo and behold, WM6 on my Samsung – Wooo Hoooooo.
Here are the instructions in Full:-
Please Note: This is entirely at your own risk, and any damage caused directly or indirectly by this information is entirely your responsibility. If you brick your phone, don't come crying to me – you have been warned!
Make sure you have ActiveSync 4.5 or higher installed.

BACKUP YOUR PHONE -Use ActiveSync to backup the contacts, and browse to the phone for images / mp3's etc.

Download the Modem Driver (required for 'Flashing') [ZIP] and install it.

Download the

i600UXXGG2

WM6 RAR file and unpack [

Link to MoDoCo page] [Alternative Link to RapidShare Download of the same file]
Ensure that you '

disable

' the USB Connection in the ActiveSync Connection Settings whilst you attempt this.

Place phone into 'Flasher Mode' (click on image for larger view)

Run the WM6 upgrader – Ensure that you have a fully charged battery, and that you don't interrupt the (rather long) upgrade process – it will say complete several times… wait until the 'Flasher' screen disappears off the phone. (NOTE: Can take up to 5 mins)

Wait for phone to reboot – it takes about

5 mins

to complete the process –

be patient whilst its on the Windows Mobile Screen!!!

Wait for the phone to reboot again… (normal startup speed this time!)

Restore the USB connection in ActiveSync

Restore all your images / mp3s and re-sync your contacts.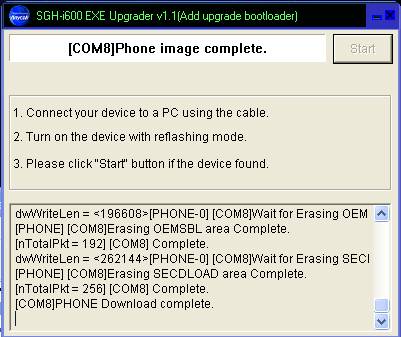 Once completed, if you should see version CE OS 5.2.1437 – i600UXXGG2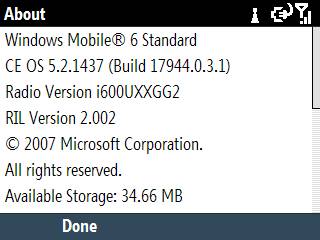 You'll notice it says 5.2 – well that is the official internal version number for WM6!
Impressions;
Well… you'll notice that some of the icons have been improved. There is a new 'Windows Live' screen (Search and Live login), a Live Messenger icon and it seems a bit faster. I'll update this as I use it over the next few days….
Some more Blackjack / SGH-i600 goodies for you;