HTC Touch – Unlocking and BT DUN (Get your TomTom working!)
Can't make it to the casino because your TomTom's broken? Don't worry, you can still rock any blackjack game online with your knowledge of black jack rules and black jack strategies from GamblingCity.net!
---
Hi All,
Well once again I have a new phone!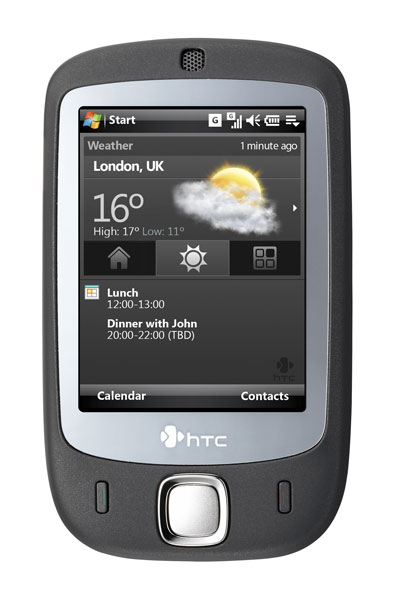 It seems that Orange UK wanted to upgrade my business account (saving me £2000+ per year) and give me 6 new phones in the process!
The one I decided to play with is the HTC Touch, and obviously I had to get under the bonnet and have a little 'tweak' :o)
Unlocking
Ok, this is pretty straighforward. All you need to do is run two apps on the HTC, and one on your PC to recover the 8-digit lock code.
Here are the exact steps:-
Download HTC Unlocker (Google to find it!)
Connect your Phone and establish the usual Activesync Connection.
Browse the the 'My Documents' folder on the phone and place the Cert_SPCS.cab and the EnableRapi.cab in there
Run Cert_SPCS.cab and EnableRapi.cab by using "File Explorer" -Click through any warnings
ON YOUR PC: Run Touch_Unlock.exe
A few moments later you will seea file appear in the folder called Unlock_Result.exe
Open HxD.exe and drag Unlock_Result.exe onto it.
Look for your IMEI Number (its under your battery) and find it in the Hex File. The 8 Digits that appear after it are the unlock code.
Place a Sim card from a different provider in your phone, and enter the 8 digit number when prompted (I had to do this twice on my phone)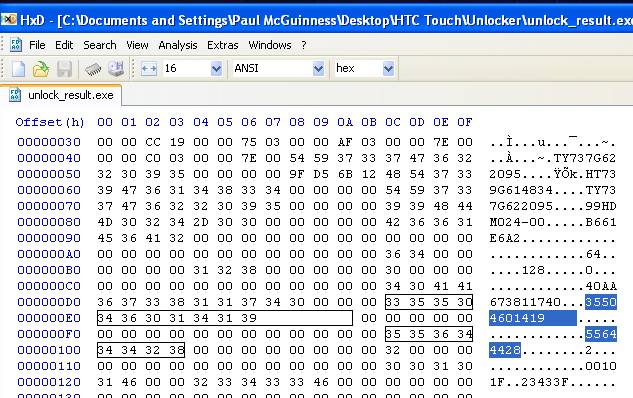 As you can see, my unlock code was 55644428, but obviously that is tied to my IMEI number (before you try it!) – you will also note that I wiped out the last 4 digits of my IMEI (didn't want the world to know that info!)
Bluetooth DUN (Dial Up Networking)
As you will know from my previous experiences with trying to get my TomTom working on the Samsung i600, it is almost impossible due to the BT DUN being removed from WM6. Well all is not lost my friends – it seems that on the HTC Touch (and maybe other HTC phones as well), you can install a .cab file that restores this functionality.
Instructions again:-
Download the WM6 BT DUN Cabinet File [WM6 BT DUN]
Unzip to Desktop on your PC
Browse your HTC through ActiveSync and place in "My Documents" on the phone
ON THE PHONE:Using File Explorer, run the WM6_BT_DUN.cab file and click through any warnings
Reset your phone
Run TomTom's "New Phone" process.
I would recommend updating your TomTom using the TomTom Home application first. These updates seem to really help when it comes to setting up phones, and mine even downloaded the (600 contact!) telephone directory off my HTC without a hitch.