Hi All,

After much messing around, I have jailbroken my iPhone 3G that I updated to 3.0 firmware on Friday.
Please note that if you want to copy my instructions and do this to your own phone YOU DO SO AT YOUR OWN RISK.
NOTE: These instructions explain how to JAILBREAK an iPhone 3G NOT an iPhone 3GS.
"Jailbreak" means you can run 'unauthorised' applications that are not in the Apple Store – It does NOT mean 'UNLOCK'  for use on other mobile networks. Please don't ask me how to do that.
Ok, first of all, go to http://redsn0w.com, follow the link and then download the 0.7.2 redsnow jailbreak app and unzip to a folder on your desktop.
Plug in your iPhone to the PC and ensure that you switch it OFF after you connect the USB cable.
Next run the redsn0w.exe file.
Browse to find your ipsw firmware file. This will be located in:-
 c:\Document and Settings\<your login name>\applications data\
     Apple Computer\iTunes\iPhone Software Update. 
I suggest you back up the ipsw file before you begin.
Click "Next" and ensure that you ONLY INSTALL CYDIA – If you install ICY, most of the dependencies get screwed up and you can't download anything in Cydia.
Next follow the on-screen instructions carefully, which are:-
Hold down the power button till the Apple logo appears
Immediately hold down the Home button (whilst still holding down the power button) for about another 8 secs.
Release the power button, but keep the home held down for another 20 secs
During this process, the PC may install a new USB driver. If things seem to fail because of this, just start the process from the beginning.
Once the Jailbreak process starts DO NOT DISCONNECT THE CABLE OR INTERRUPT IT!
The whole thing takes about 5 mins.
On completion, go into Cydia and search for OpenSSH and install that, then install WhatIP – Once both are installed, run WhatIP to get the IP address of your iPhone and then use something like PuTTY to SSH into your phone to test it.
The username is "root" and the password is "alpine" (these are the default), if you have been successful, you should see something like this:-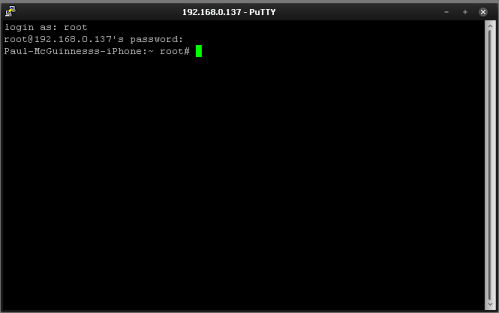 Now you may ask yourself "What are the advantages" of this?
Well, some of the 'cute' things that Apple have now released in their 3.0 update were previously available via Cydia.
Along with these things (like Cut'n'paste, video recording etc), there are a lot of apps that Apple simply did not want users to have access to.
Fundimentally the iPhone is a Linux phone based on a Debian distribution, and because of this there are a whole raft of applets and tools that are being ported to work on this phone.
Here are some examples of the Cydia app's that I've installed and use:-
"Make it Mine" – This overrides the carrier name to anything you want.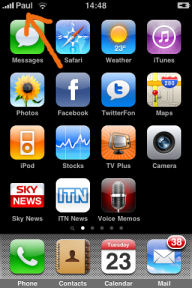 "WhatIP" (mentioned above) – Shows the IP address of your iPhone
"CompactTV" – Watch or Download South Park, Family Guy, Simpsons and American Dad