"The Sarge" – 1983 Series III Land Rover
Hello Again Avid Reader,
Going a bit off-track today, but thought I would share with you my recent purchase.
Nope, not the latest in Wireless technology, or a shiny new mobile phone (although I have had this one for nearly a month now!), but an old, slightly worn, ex-military Series III Land Rover.
It's purchase came about after the missus decided that she wanted rid of the Chrysler Grand Voyager in order to get an Audi Convertible. This of course left a slight issue; How would we get the three Irish Setters that we own down to the river (my car is a Jaguar XK8, so no chance there!)
We decided that a 'cheap and cheerful' 4×4 would be the answer, and after asking around, managed to acquire 'The Sarge'
No to be honest, the test drive was erm, how can I put it, scary! This 1983 ex-military Landy has no power steering, all round drum-brakes, steering that has to be used to be believed, and a gearbox that has about 2 feet of play in it.
Needless to say, I fell in love with it instantly!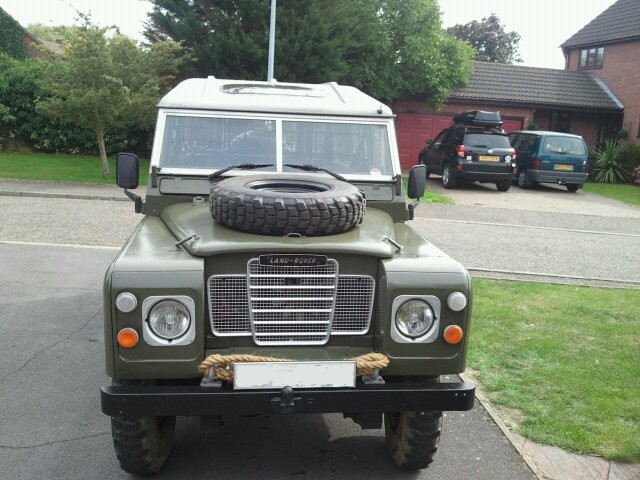 After a bit of negotiation, the seller (a nice chap also called Paul) threw in an extra spare wheel so I could utilise both mounts (there is one on the rear door as well as the bonnet)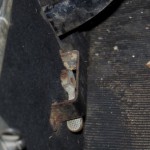 Its a 1983 Series III (registered at DVLA in 1986), and still has the Infra-red / Convoy light selectors inside, and has dual fuel-tanks that can only be filled by removing the seats (not so much fun on these snowy days, I can tell you!). There is a manual selector on the front of the seat panel between the drivers legs that lets you select which fuel tank you are using. As you change the selector, you see the fuel gauge change to match the tank you have selected.
Of course, when I bought it, it was 'Farmer Green', you know, that lacklustre powdery green that they used to come in… In any case, I decided that it had to be changed. So armed with a laptop, I visited that old faithful 'eBay'
On eBay I found "Military Vehicle Paint – 2.5 lt Satin Finish", perfect I thought. So with this and a litre of Black Satin, I attacked the project with vim!
After 'googling' a bit, I came to the general consensus that a paint roller would work fine. Well, I have to say, that even with my lack of preparation (which was basically giving it to the local hand car wash for a hour), it came out really well. So well in fact, I still haven't put a 2nd coat on!
The seats were terrible inside, but in exchange for a quick website revamp, Collards Upholstery recovered the seats in Andrew Muirhead leather. As you can see the picture, Russ done a fantastic job of them.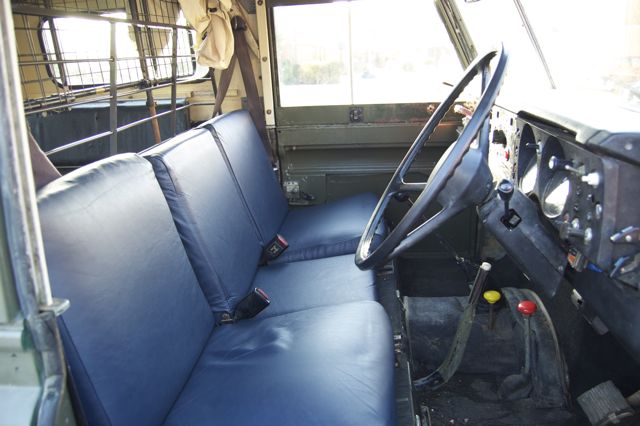 You can see from these other pictures that it still has the Convoy / Stealth light selectors and switch on the dashboard, although the infra-red switch is hard-wired to the normal headlamps now (shame!)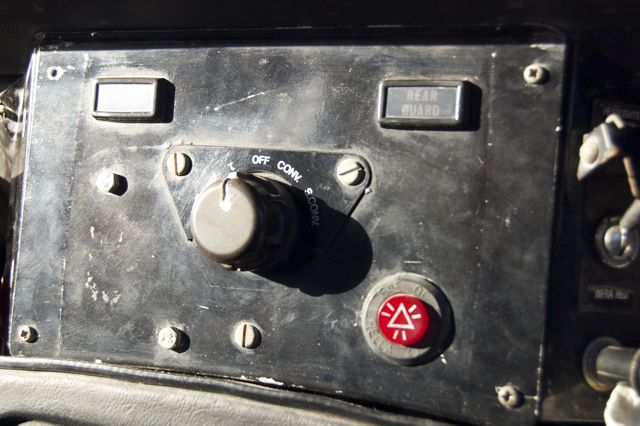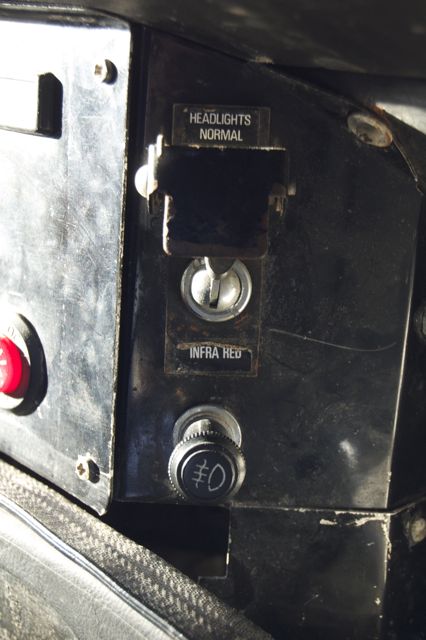 You can also see from the rear view, that it has the waterproof 'screw on' lenses, and the overrider bumpers too.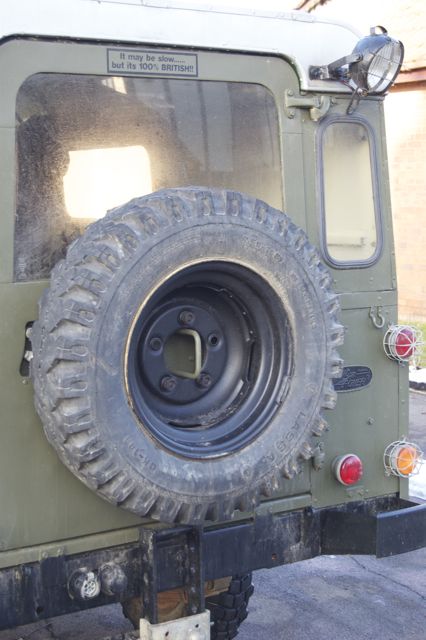 The interior of the rear cabin is in the standard military style, with two bench seats and storage areas for munitions. You'll note the jerry-can sneaking into the bottom left of the photo. I acquired this from the Army Surplus in Chelmsford (for a bargain £20 including spout + spare seal!)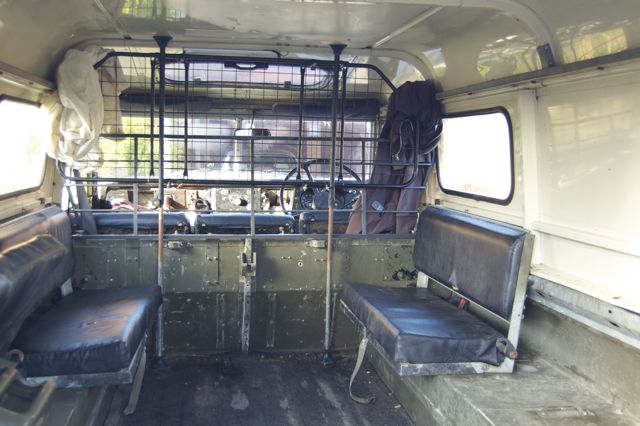 Things I had to do straight away:-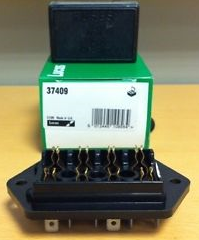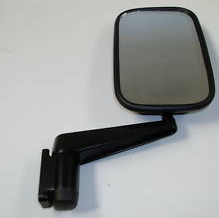 The indicator Stalk was seriously stiff, and never returned (and with the road noise, you can't hear the relay clicking!), so that had to be changed (eBay – £14). Next was the fusebox. I would randomly loose indicators, interior light, brake lights. Unfortunately the old Lucas 6JF fuse boxes have aluminium contacts with a steel rivet running through them. The net result is that corrosion makes everything a bit flaky. That said, £8 later (again eBay), I had a brand new one, and it took 5 minutes to fit. Lastly was the passenger side mirror (you need wing mirrors in a LWB Landy!), another visit to eBay and £14 later I had a brand new one!
The rope on the front has hand-woven eyelets (with a stainless steel shackle) and is made from natural fibre rope. I got the chap down at the Chandlers at the bottom of Market Hill in Maldon to make this for me, and to his credit, only charged me a total of £30 which I thought was a bargain as it took him an hour to do!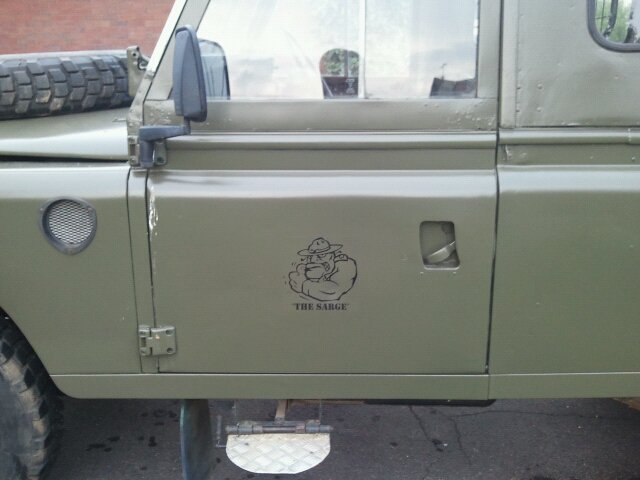 My next item on the list was some decals. I have the usual 'It may be slow, but it's 100% British' on the back, but then added a 'Sarge' decal to the doors. In addition, I added a 'K9 Unit' to the back quarter, and 'Escape Hatch' to the inside of the rear door.
Current issues that I need to address:-
Clutch is awful. Sometimes it works, sometimes I have to use all my strength to get it into 1st gear.
4×4 Selector is gummed up inside the gearbox, so I can't use 4×4 at the moment (although this should be fixed tomorrow)
Passenger door is a bit rotten (anyone have one spare?)
Roof leaks a little around a (badly fitted) sunroof.
Needs a drivers-side step (wife is only 5′ tall LOL!)
Also open to any suggestions on how to improve it 🙂
2012 Update!
OK, Changed the gearbox for a Wolf XD one, so now we have 4×4 and a useable clutch (although no Synchro in 1st/2nd LOL) and  I've fixed the leaking roof by permanently sealing the sunroof closed with silicone sealant, then painted over the joint… yup, I did that!