Sky Satellite – Enhancing your Satellite Installation
---
Hi All,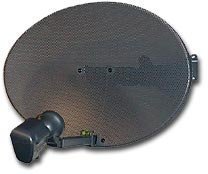 I've compiled list of UK Sky Satellite Guides here, and NO, before you ask there is no "Get Sky for Free" – It's impossible…
What I have done, is list some of the common issues that arise, how to extend your system, and where to get FTA (Free-to-Air) or 'FreeSat' cards.
My Sky Box keeps Freezing / Forcing a Software Update

This is a common issue, usually caused by a dodgy software update. All Sky Digiboxes download updates "over the air", and sometimes you get a bad one. To Force a new update, follow these steps:-
Switch off the receiver's power

at the wall

Wait 10 secs…. Then press and hold the Backup button on the front of the receiver whilst switching the power back on
Keep holding the backup button until all the LEDs on the front switch on.
Wait 10-20 mins (A message on the screen will say something like 'Don't switch off….')
Resist temptation to start playing with the box when it reboots… give it a few more minutes
Voila! Latest software loaded.
Upgrading to Sky+ or Adding another receiver to the same dish
This is actually very simple… Buy yourself a QUAD (4 outputs) or OCTO LNB (8 outputs). Unscrew the 'F'-connectors that are currently attached to your existing LNB. Swap the LNB for the new one. Reconnect the cables. Simple!
Once you have done this, you can then run additional cables for Sky+ (required 2 x LNB feeds) or for additional receivers.
I want to control my Sky Box from upstairs
You need a 'Link' (sometimes called a Magic Eye) – These are cheap enough to get hold of (check eBay), but you have to enable the 'Link' on your Sky Box. Here are the steps:-
To install your TV Link you will need to run a length of coaxial cable from the socket marked RF2 on the back of you're the Digibox directly to the TV you wish to watch Sky on. Plug the cable into one side of the Link and then plug the Link directly into the TV aerial socket.
The Link requires power from the Digibox, and you will need to enter a hidden engineers menu to achieve this. Part of the process involves entering a menu without any on-screen prompts. Simply follow these instructions, and do not worry if you do not see any change on the screen as you press the '0' and '1'
• Press SERVICES
• Press 4 for SYSTEM SETUP
• Press 0 then 1 then SELECT – Do this sequence VERY QUICKLY
• Press 4 for RF OUTLETS
• Press down to RF OUTLET POWER SUPPLY and turn it to ON.
• Press down to SAVE NEW SETTINGS and Press SELECT to store the changes
• Press BACKUP to go Back to your Sky channel
Update: If you are using a SkyHD receiver with the new EPG, replace 4,0,1 with 0,0,1
Once you have done this, you will find that the little light on the TV Link will now be lit confirming that there is now power being sent from the Digibox to the remote link. Once you have tuned your TV to the Sky channel you will find you can control your digibox functions from here using a Sky remote control (or Sky+ remote control if you have a Sky+ machine)
Should you wish to use the Sky remote control to work your TV in this room (volume, mute, standby etc) you will have to program the remote to perform these functions – see "Programming your remote to control your TV functions" in your Sky digibox manual.
FITTING MULTIPLE TV LINKS – Should you wish to fit more than one TV Link and be able to watch Sky in many rooms around your house, a powered distribution amplifier is required. These are available in 2, 4, and 8 way versions and can be found from many vendors
FAULT FINDING – Most faults are caused by badly fitted connectors and short circuits. This causes the problems as power does not reach the link along the Coaxial cable. If there is no LED on the link, then there is either a short on the cable or the link is faulty. Try plugging the link directly in the RF2 socket of your digibox. If it lights up there but not on the end of the cable you have run then the fault must lie in the connectors or cable. If the link LED is on, but you cannot control the Digibox, use a short length of cable from the RF2 socket on your digibox and try the TV Link functions from there, if it doesn't work by doing this then the TV Link could be at fault.
FreeSat / Freeview
Call Sky on 08442 410 595 and tell them that you want a 'Card Only' – It should cost £20 and work on any Sky Digibox – Ideal for the [cough..] Villa in Spain [cough..]
The BBC and ITV also provide 'Freesat', but although it can use a standard Sky dish without realignment, it does need a different receiver (Sky Digiboxes won't work)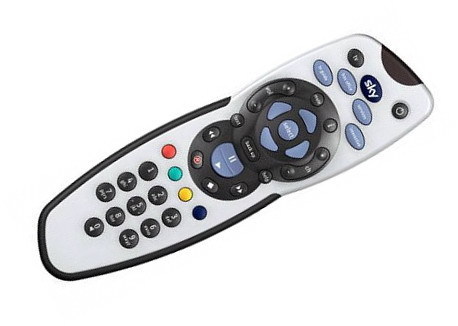 Turning a SkyHD Remote into a Sky+ Remote
The SkyHD Remote will work just fine with a Sky+ receiver. Just follow these steps:-
Press TV
Press and Hold i (Info) and Select until the LED flashes twice
Press 1, Select, Sky
Replace the 1 with a 2 to change back to a SkyHD remote.
Getting the Sky+ Remote to control your Surround Sound / Amplifier
The Sky+ Remote (NOT the standard Sky remote unfortunately….) has a hidden ability to control your surround-sound or audio AMP. Once programmed, the Navigation UP/DOWN buttons become the volume control for the Amp, and the LEFT button becomes 'standby'. Various other functions may be mapped, but it is dependant on your Amp.
The steps are as follows:-
Turn on the AV amplifier you wish to operate
Press the TV button on the Sky+ Remote
Press and hold down the Select

and

the 0 (zero) buttons on the Sky+ Remote until the LED blinks twice (if it doesn't, then your remote doesn't support this function)
Input the 4 digit number from the Sky+ code list below. The LED should flash twice to confirm that the code was entered successfully (again, if it doesn't, your remote is probably too old to support this function)
Use the Left navigation button on the remote to try and switch the AV Amplifier into standby. If this works then the other AV Amplifier functions should also work and the correct code has been selected. If all functions do not work correctly then repeat steps 1 – 3 and work through all the alternative 4 digit numbers from the code list until you find the code which supports all or as many of the AV Amplifier functions as possible.
If your Sky+ remote is pretty new, or you have the Sky Navigator Remote, you may be able to set the normal Volume controls to become the amplifier ones. To try this; Press TV, Select and 1 together until LED flashes twice (if it doesn't, then its not supported on your remote), then press Sky.
AV Amplifier Codes:
| | | | |
| --- | --- | --- | --- |
| Manufacturer | Codes | Manufacturer | Codes |
| Aiwa | 0149, 0186, 1433 | Akai | 0143, 0468 |
| Alba | 0587 | Amstrad | 0830, 0772 |
| Arcam | 0669, 0297 | Audiolab | 0297, 1217 |
| Bat | 0297 | Bush | 0297, 0449, 0875 |
| Clatronic | 0772 | Denon | 0032, 0188 |
| Elta | 0772 | Garrard | 0468, 0772 |
| Genexxa | 0468 | Goldmund | 0297 |
| Goodmans | 0468, 0772, 0449, 1081 | Grundig | 0297, 0875, 1217, 1117, 0772 |
| Harmon/Kardon | 0138 | Harwood | 0772 |
| Inkel | 0055, 0530 | Intersound | 0772 |
| JBL | 0138 | JVC | 0102, 0492 |
| Kenwood | 1055, 1341, 1597, 0341, 0342, 0055 | Koss | 0772 |
| Linn | 0297 | LXI | 0772 |
| Marantz | 0297, 1117, 1217 | Mark | 0297 |
| Matsui | 0772 | Mafui | 0342 |
| Meridian | 0297 | Micromega | 0297, 1217 |
| Minton | 1123 | Mitsubishi | 0468 |
| Mx Onda | 0772 | Myryad | 0297, 1217 |
| Naim | 0297 | Nikkei | 0772 |
| Okano | 0468 | Orient Power | 0772 |
| Panasonic | 0336, 1336, 1337, 1546 | Phontrend | 0530 |
| Pioneer | 0297, 0317 | Pye | 0875 |
| Quad | 0297 | Radioshack | 0772 |
| Revox | 0297 | Roadstar | 0875 |
| Sansui | 1117 | Sanyo | 0772 |
| Schneider | 1081, 0138, 0772 | Sherwood | 0530 |
| Sony | 1086, 1186, 1286, 0186 | Taekwang | 0468 |
| Teac | 0449 | Technics | 1336, 1337, 1546 |
| Telefunken | 0875 | Thorens | 0297, 1217 |
| Thorn | 0772 | Universum | 0297, 0772, 0468 |
| Victor | 0102 | Videologic | 1123 |
| Wharfdale | 0468 | Yamaha | 0204, 1304 |
| Zenith | 0772 | | |
More Useful Remote Contol Codes
Turn a Sky+ remote into a standard Sky remote:-
TV, Hold Yellow+Select until LED flashes twice, 0, Select, Sky (replace 2 with 0 to reset back)
Turn a [ rev 8 ] Sky remote into a Sky+ remote (without the record buttons of course!):-
TV, Hold Blue+Select until LED flashes twice, 2, Select, Sky (replace 2 with 0 to reset back)
Setting your secondary remotes to auto-switch the aspect ratios between 9:16 and 4:3:-

If you have both widescreen and normal TVs connected to the RF2 output, then they normally have to all use the same picture format set in the 'second location' format setting.
Solution:
Set the 'default picture' format to widescreen.
Set the second location picture format to 4:3
Then on each sky remote to be used for widescreen use the following sequence:
TV, Blue + Select until Led flashes twice, 1, Select, Sky (replace 1 with 0 to reset back)
Each TV using this code automatically sets the format to widescreen. Unmodified remotes would stay in the normal 4:3 format.
Getting the code that the Sky engineer entered into your remote (Blink-back):-
Press the TV button on the Sky remote
Hold down Select and the Red buttons together for approximately two seconds until the LED blinks twice
Key in 9, 9, 0
Key in 1 on the numeric keypad and count the number of times the Red LED blinks. This is the 1st digit.
Repeat for 2 and 3
Note: no Blink = 0 (zero)
Useful Installation Tool
I found this tool recently… it uses Google Maps to show you your own house, and where you can place your dish. http://www.uksatellitehelp.co.uk/ or http://www.dishpointer.com/
My Satellite Guides