HTPC Home Theatre Media Center from old junk
UPDATED on 18th Jan – Someone (somehow) managed to attack this page….
Dear Avid Reader,
Here we are once again with one of my 'real world' hack's… This one gets used almost every day!
In my modest home in Latchingdon, Essex – England, I have a 'Bar in the Garden'. This 'Bar' is approx 25′ x 18′ and has an indoor BBQ, Gas Heating and a Bar Counter with cupboards, fridges and glass shelves.
Clearly I needed to think carefully about the entertainment system!
My key requirements were:-
Now the Music would obviously come from my huge MP3 collection (and even bigger CD collection), TV would come from Satellite TV via a dish on the side of the bar.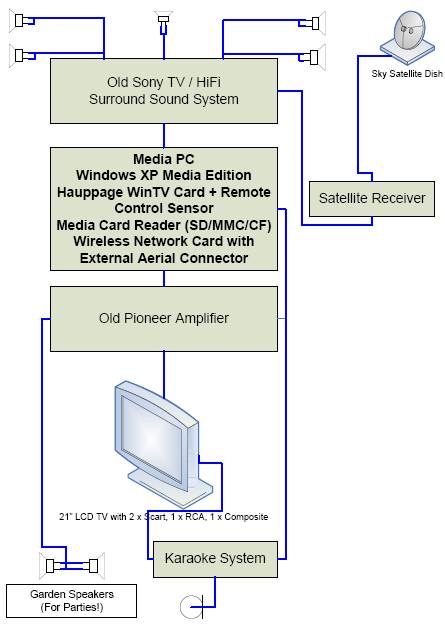 After messing about with Windows Media Edition, I decided on using Media Portal (www.team-mediaportal.com)  which is a fantastic open-source Media Center application. Not only does it provide the usual DVD/MP3/Pictures interface, but also supports TV Cards, EPG and even a TiVO-style recording facility.
All the sound hardware was derived from old HiFi amplifiers and surround-sound systems, and the TV was a £150 HD Ready no-name from Comets.
The app plays nice with Hauppauge TV / Remote combination cards, and has a very configurable interface (with skinning capabilities).
At the other end of my bar, I have the Guitar stuff – As you can see below, I've set up a 2nd LCD panel (using a TV Interface board I purchased off eBay), add a £20 DVD player from Tesco and you have a play-along-with-the-music system!